Pupusas could be described as pancakes with filling, but they're so much more. At Holy Pupusas restaurant in Denton, pupusas are Salvadoran comfort food, made with love. People have discovered the golden, flavorful treats for breakfast (served all day), lunch and dinner.
This delicious and healthy food differs from Mexican cuisine, in the types of ingredients used (corn flour versus corn meal, for example) to the ways dishes are prepared.
The owners of Holy Pupusas welcome members of the El Salvador community — a larger population in the city than most realize — as well as people from Guatemala and Mexico. Customers also include members of the LGBTQ community, college students and anyone who wants to eat fresh Salvadoran dishes.
Sam Ponce, one of its owners, has this message: "Everyone is very welcome, regardless of who you are or your sexual orientation. We have authentic, homemade pupusas that people eat in El Salvador and other dishes, too."
Kelly Adams, the establishment's co-owner, agrees. "People feel welcomed here, they feel safe, and they enjoy the food." Adams, who is gay, lost his husband two years ago and displays his photo in the restaurant, along with some of the antiques they collected, including a special coffee bar.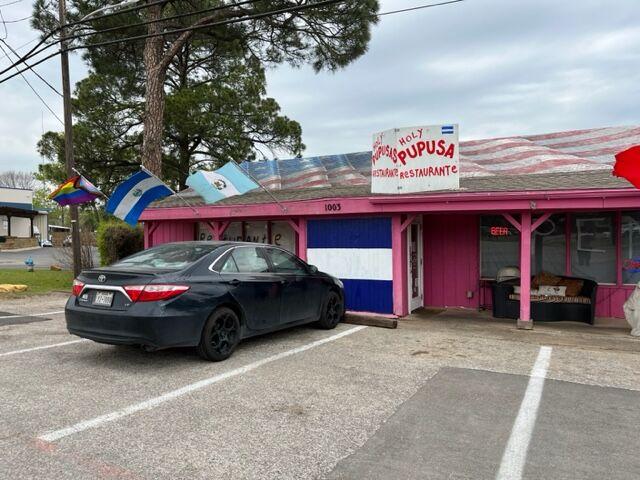 The décor is eclectic, including Salvadoran wood carvings in the waiting area, crucifixes throughout the restaurant and giant beach towels on the wall from El Salvador. Music videos from the 1980s play in one corner of the cozy dining room, and sometimes soccer is on TV too.
Adams, a native Texan, and Ponce, from El Salvador (where his mother still lives and is a baker), decided they wanted to start a restaurant. When locations in the Dallas area didn't feel right, they decided to try Denton. The future owners of Holy Pupusas took the Dallas Drive exit off Interstate 35E, and quickly saw a one-story pink building for lease. They knew they'd found the right spot to start their business.
The building had never been a restaurant before, so a few changes were made before they opened in June 2022. "Sam knows the culture and the food of El Salvador," Adams said. "He taught me how to make many of the dishes that we serve."
Pupusas are the most popular order. They are shaped by hand and stuffed with cheese and choices like chicken, pork, beans, spinach and more cheese.
The process of making a pupusa includes rolling dough and patting it by hand to make the flat "pancake," and then holding the dough in one hand and filling it with cheese and other ingredients. The dough is folded over the ingredients and pinched along the edges and patted by hand before being grilled to a golden brown.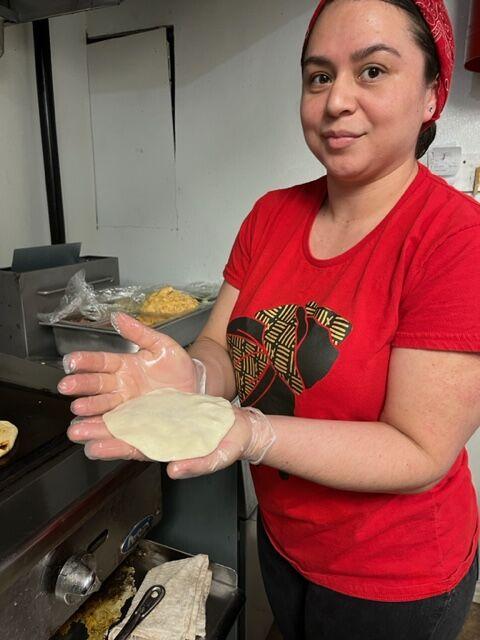 "There's really and truly an art to making pupusas, and our cooks are really fast," Adams said. "We explain to our customers that they may have to wait 10 to 15 minutes for their orders because everything is made fresh in the kitchen."
Many Denton-area folks are not familiar with authentic Salvadoran food, Ponce said. "Our tamales are different, too, made with a different corn flour and wrapped in banana leaves. Our Salvadoran quesadillas are a type of bread that's sweet, and we love our coffee served strong. Children drink it, too. And tortillas are made with corn flour called maseca, picked when the corn is young, then cooked and ground."
What else is popular? Horchata, a cold and sweet drink, is served at most tables; it's made with ground morro seed, water and sugar. Carne asada (beef with carrots, potatoes, gravy and rice) and pollo encebollado (sauteed chicken and onions) are staples, and the newest menu addition, mojarra frita (a fried fish), is a big hit. Breakfast is served all day (scrambled eggs with beans, tortillas and cream), and plantains are on the menu, too.
Business is growing, and carry-out is a mainstay. "We estimate that 70 percent of our business is take-out," Adams said.
You can't miss the distinctive restaurant on Dallas Drive. Holy Pupusas sports a pink facade, a statue of the Virgin Mary, and several flags that say welcome — the national flags of El Salvador, Guatemala and Mexico, plus an all-inclusive Pride flag.
"We serve the good, authentic Salvadoran food that's better for you," Ponce said.