The old adage, "The more things change, the more they stay the same" seems to hold true for one Lake Dallas enterprise. A generational family business since 1972, Lake Dallas Hardware (Do it Best) has remained a popular fixture all these years and continues to grow with the community.
The store's original owners, Bob and Dru McDonald, remain involved, but have passed the management torch to sons Curtis and Troy McDonald, as well as to 50-year employee Norman Beaty.
"I've been helping my dad at the store since I was itty bitty," Curtis McDonald said. The McDonalds bought the business in 1972 as a True Value Hardware co-op in Lake Dallas. In 2001, the store became an Ace Hardware store and moved to 505 Thompson Drive in Lake Dallas, its current location. They changed the name to Lake Dallas Hardware in 2016.
Customer needs and changing times have increased the store's inventory and expanded its services, but the business has remained the same in many other significant ways. "Most customers tell us it's a down-home kind of store," McDonald said. "People know us and we know them. These are our neighbors coming in."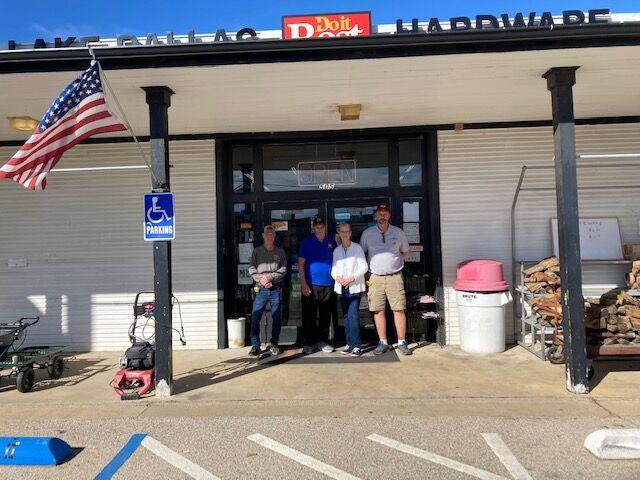 The store carries a little bit of everything, and larger quantities of the more popular items. Display shelves are packed so full of merchandise that folks are amazed by how the staff finds room for it all. Main sellers are nuts and bolts, as well as miscellaneous plumbing items. "We sell those things just about every day," McDonald said.
Since their doors opened, the store has sold nails and screws by the pound. "I've been in this business long enough to see that nowadays most people use screws over nails, but we still sell both," McDonald said.
Other inventory filling the store includes painting equipment and supplies, tools, various electrical parts, even lumber and sheetrock. In spring and summer, its lawn and garden department is popular with shoppers.
The store offers services that most big-box stores do not provide, such as a door and window screen business, with a full-time employee onsite to build and repair them. They also re-key house locks, sharpen lawn mower and chainsaw blades, and rent out carpet steam cleaners, garden tillers and power washers.
Residents of Lake Dallas view the store as their go-to place for a friendly face, good advice, and everything needed for home projects. "Because you won't have to wait for service and our knowledgeable employees know where everything in the store is stocked, you'll get in and out pretty fast, too," McDonald said.